Landis+Gyr E850 Qualigrid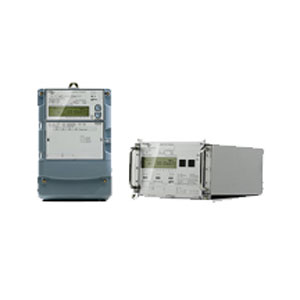 Precise values for accounting, comprehensive data for network operation: from the very start, the E850 series from Landis+Gyr was developed with grid applications in mind. With its exceptionally low reaction time, high data resolution and proven operational security, it is clear that the E850 was designed for use in all applications in high-voltage networks.
Up to 36 measurement channels simultaneously register energy and operation values; the subsequent calculation for accounting and load parameters can be extensively individually programmed. The extremely fast measuring dynamic also permits very quick load changes, which improves the transmission area in particular in the monitoring of performance agreements. Unwanted harmonic waves (THD) can be recognized, which then makes the communication and accounting of line leakage and transformer losses (loss metering) possible.
Logically optimised for high operational security
The E850 helps energy providers in several ways by guaranteeing high quality: countless parameters can be continually monitored and read out as instantaneous values. A supplementary event memory holds up to 256 entries. The E850 is made only from high-quality construction materials giving it long-term application stability, and each meter has undergone a thorough testing process before delivery.
Broad data coverage, quick communication
The memory allocation of the 8MB Flash Memory allows individual adjustments. Up to 24 energy tariffs and 8 maximum registers are supported and can also save previous values and load profiles. Interchangeable communications modules enable quick read-out over standard interfaces (RS-232, RS 485, GSM, TCP/IP) as well as the manufacturing industry's DLMS protocol.
Future-oriented management of high amounts of energy
Even in the liberalised market, it still holds true: in grid metering, it's precision that brings cost effectiveness. The E850 supports EVU, which means the future is already built in: all 36 measuring channels can draw on the generation of highly flexible and demand-oriented accounting possibilities. The measurement of harmonic waves and an integrated dip table makes it possible to monitor the level of network quality as established in the contract. Large customers in turn have the chance to contractually set limits to the swings in the supply quality and can monitor this without any additional devices.
Features
Class 0.2S meter with transformer connection
Especially developed for grid applications
Much faster measuring than commercial and industrial meters
Single-phase power registration of any energy or quadrant
Integrates network quality module with 36 registers
Communication and accounting of line and transformers losses
Registration and display of instantaneous values
Excellent measurement ratios for low loads as well as under full load
Up to 36 measurement channels, 24 energy tariff registers and 8 maximum registers
Previous values and load profile recording
Tariff control with internal events signals
RS-485 interface for direct connection to additional meters (daisy chain)
Operational monitoring with event memory, up to 256 events
4 or 8 output contacts