IRM 1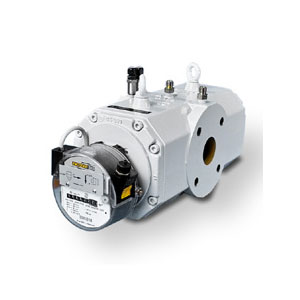 Applications
Media: Natural gas, town gas, inert gases
Industries: Gas industry, furnace construction, chemicals industry
Tasks: Measurement, control, regulation
Brief information
Operating principle
Elster-Instromet IRM-1 rotary gas meters are volumetric measuring devices for gaseous media which operate according to the positive displacement principle. They record the operating volume. Electronic volume correctors can be used in order to correct the volume to the standard volume.
The measuring cell consists of two 8-shaped impellers which, together with the housing, form four measuring chambers per revolution that are periodically fi lled and emptied.
The number of revolutions is proportional to the measured volume. The rotation is transferred to a mechanical index via a gear assembly and the volume is then recorded.
The IRM-1 rotary gas meter is based on the measuring cartridge system. This means that the measuring cell is contained in a measuring cartridge which is sealed into the housing with O-rings and is thus mechanically separated from the housing. Any potential pipeline stress will be absorbed by the housing and will not be transferred to the measuring cartridge. Another advantage is that the measuring cartridge can be replaced if repairs need to be carried out, without having to remove the housing from the pipeline.
General
Rotary gas meters are characterised by a high measuring range and a compact design. Due to their measuring principle, they do not require a straight inlet or outlet pipe section. Rotary gas meters must be lubricated with oil. Oil level checks and maintenance can be carried out from the front side only thanks to interconnected oil chambers to the front and rear of the meter. The double index allows the meter to be adapted to any fl ow direction.
Features
Meter sizes: G16 – G250
Flow rates from 0.5 to 400 m³/h
Nominal sizes DN 40 – DN 100
Pressure ratings PN 10/16 and ANSI 150, special version up to ANSI 600
Housing made from spheroidal graphite cast iron (GGG-40) or aluminium
Double index for universal installation and fl ow direction
Optional: Duo meter G65 – G250
Optional: Bypass Optional: Absolute-ENCODER S1D
Optional: mechanical index drive
Downloads

Sales+Brochure+IRM1