Programmable Communicating Thermostat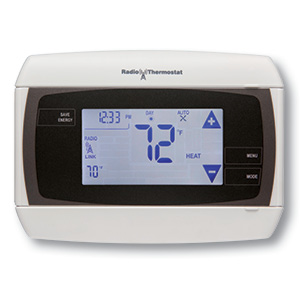 The Programmable Communicating Thermostat (PCT) provides a flexible and consumer-friendly way to add advanced load management capabilities for demand response or infrastructure management. Landis+Gyr offers two PCT choices featuring a choice of either Gridstream or ZigBee® communication platforms. The Gridstream-enabled devices utilize the advanced metering network to send and receive information, while the Zigbee option operates independently by accessing a cellular gateway. Both options allow inputs by both the utility and consumer. A secure web portal and optional mobile application allow consumers to adjust settings remotely.
Functions
The L410 and L430 both provide easy installation and future-proof communication platforms.
Ideal and cost-effective tool for demand response
Wide range of programming options
Secure portal and smart phone application available for remote monitoring and control
L410 utilizes ZigBee 1.1 SEP
L430 utilizes Gridstream RF
Features
The L410 and L430 thermostats deliver:
Seven-day programmable with four independent periods per day
Configurable temperature swing
Control for up to two stages of cooling and heating
Remote temperature offset
Duty cycling
Fan control
Downloads