E330/E350 FOCUS AX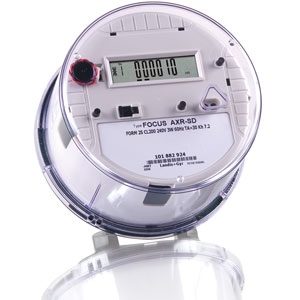 The E330 FOCUS® AX and E350 FOCUS AX-SD advanced function residential meters surpass other meters in their class to deliver options you need for a highly functional and affordable metering solution. The combination of the FOCUS Service Disconnect base module and powerful AX register supports a variety of connect/disconnect and service-limiting applications. The result: A single solution to manage demand, time of use, load profile and reactive power—with no costly upgrades.
Functions
Reactive energy and power quality measurements functions deliver empowering data to run advanced applications such as voltage monitoring, VAR control and load curtailment.
The E350 FOCUS AX-SD incorporates a 200A, motor-driven, cam action disconnect/connect switch under the meter cover. This advanced, market-leading switch, coupled with the field-proven reliability of the E350 AX-SD, delivers Landis+Gyr's third-generation design answer to today's evolving utility requirements.
Features
Key features include:
Most advanced cam-driven switch design to withstand 10K cycles at full rated current
Durable switch that continues operation, even under low voltage conditions
Prepay ready
Power quality data (sag/swell)
Magnetic/DC presence detection (based on leading current)
8 channels of load profile
Surpasses ANSI requirements for surge protection (10KV) and meter accuracy
Full 200 amp disconnect rating
Advanced over-the-air-flashable firmware upgrades avoids loss of billing utility requirements
Downloads