Landis+Gyr wins Best Product in India's largest trade show – ELECRAMA 2020
NOIDA, INDIA. – Feb, 20, 2020 – Landis+Gyr (LAND.SW) has been awarded Best Product by an Indian exhibitor in the recent largest global electrical & electronics trade show in India, ELECRAMA 2020. The award recongised Landis+Gyr's distribution automation solution deployed for Tata Power Delhi Distribution Limited (Tata Power-DDL), it's largest AMI deployment in India.
The award was judged by IEEMA (Indian Electrical and Electronics Manufacturer's Association) jury at the bi-annual global trade show ELECRAMA where the key players of Indian Electrical Industry gather for sharing, learning and networking on the latest industry trends. Landis+Gyr's innovative product was selected from more than 1200 exhibitors who participated in the category of Best Product by an Indian Exhibitor.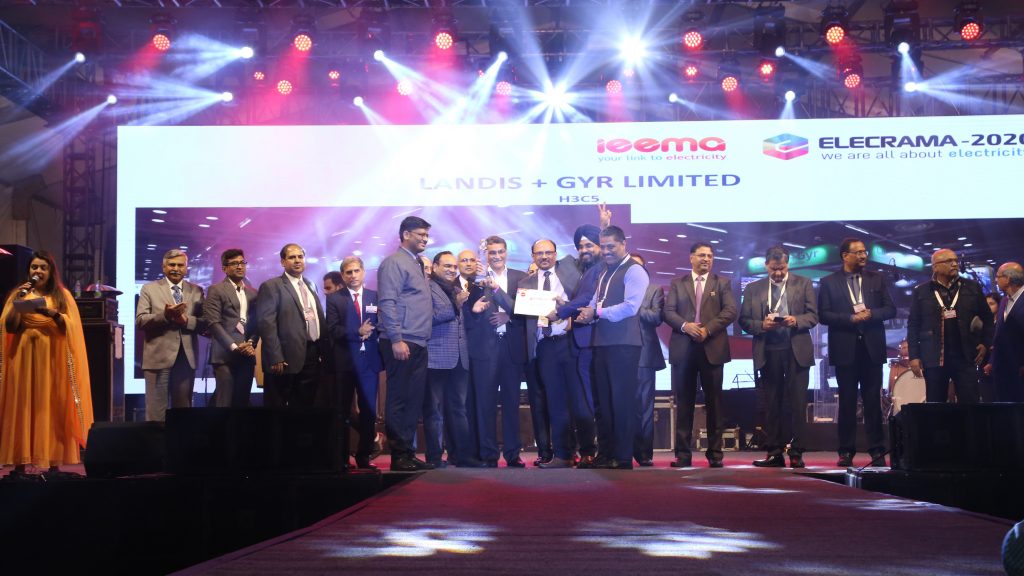 "Landis+Gyr, the leader in smart metering is proud to partner with leading and innovative utilities to bring the value of our smart grid solutions to their customers. We would like to attribute this award to Tata Power Delhi Distribution Limited who has placed its trust in Landis+Gyr to deliver and navigate digital transformation in their business," said Sandip Mukherjee, CEO at Landis+Gyr India.
"This award is also a testament to our AMI and smart grid solution capabilities as we leverage our global best practices combined with our local research and development team in delivering the first of its kind roll-out for India," added Sandip.
Landis+Gyr innovative distribution automation solution
Landis+Gyr was selected by Tata Power-DDL in 2017 to deploy India's first, large scale, smart meter and Radio Frequency (RF) canopy deployment for 500k smart meters, which covers the full 510 square kilometers of Tata Power-DDL's area of operation. It marks a significant step in Tata Power-DDL efforts to bring smart grid technology to India. The Landis+Gyr's distribution automation solution is an integral part of the smart grid canopy deployment where it delivers transformer monitoring system capability to provide real time monitoring of key parameters such as oil level and temperature as well as bush temperature on distribution transformers. This enables utilities to make proactive decisions on distribution network planning or maintenance works.
While congratulating Landis+Gyr, Mr. Ganesh Srinivasan, CEO, Tata Power-DDL said, "Smart metering roll-out is a very critical milestone in our AMI journey. In the first phase of the project, we are installing 5 lakhs (500k) smart meters that will help us to reduce operational cost and enhance commercial efficiency while empowering the end consumer. We have partnered with Landis+Gyr as it has a great track record and substantial experience in smart meter deployment working with many utilities in implementing smart meters and AMI solution across continents."
"I believe the capability, commitment and experience of the Landis+Gyr local team will prove valuable in making this project a grand success. Through this partnership, we will not only provide efficient power supply to a populace of 7 million in our area of operation but also contribute our bit towards the Government of India's vision of pan India smart metering implementation by 2022," added Mr. Ganesh.
Besides the best product award, Landis+Gyr has also received the Best Stall Design in 27-60 square metre category" award with the theme "Experience What's Next' by showcasing Landis+Gyr capabilities with leading utilities from around the globe and local smart metering projects.
About Landis+Gyr
Landis+Gyr is the leading global provider of integrated energy management solutions for the utility sector. Offering one of the broadest portfolios, we deliver innovative and flexible solutions to help utilities solve their complex challenges in smart metering, grid edge intelligence and smart infrastructure. With sales of USD 1.8 billion, Landis+Gyr employs approximately 5,600 people in over 30 countries across five continents, with the sole mission of helping the world manage energy better.
More information is available at www.landisgyr.com.
About TATA Power-DDL
TATA Power Delhi Distribution Limited (Tata Power-DDL) is a joint venture between Tata Power and the Government of NCT of Delhi. It distributes electricity in North Delhi and serves a populace of 7 million in its 510 sq.km. of area of operation in North Delhi.  It has been a frontrunner in implementing power distribution reforms and is acknowledged for its consumer-friendly practices. Today, AT&C losses its area stands at sub 8% which is an unprecedented reduction of over 85% from an opening loss level of 53% in July 2002 when it took over the operations from Delhi Vidyut Board.
Contact
Yee Ling Wee | Regional Contact Asia Pacific
Senior Marketing Communications Manager
yeeling.wee@landisgyr.com