As Vice President of Portfolio Management at Landis+Gyr, John Radgowski is understandably and unabashedly an energy geek. That's why its no great shock to learn that he installed a Sense device in his homes electrical breaker box and, just about every day, he uses the detailed energy-related information it delivers to his smartphone.
He's discovered, for instance, that the light in his wife's closet uses way more power than it rightfully should. He also admits that the knowledge he seeks most often from his Sense device has nothing to do with energy. "The app tells me when my garage door goes up and down," he says. "It tells me when someone is home."
Like Radgowski, consumers and utilities are now discovering that a multitude of functions can be enabled with apps and, most likely, we'll find uses for these bits of code that we never even anticipated.
What does it take to get a large variety of energy-related apps into the hands of consumers and utilities? It takes two things: buyer demand and a standardized development path to help creative people design tomorrow's smart grid solutions.
Waste not? They want to
Research from the Smart Energy Consumer Collaborate (SECC) shows that 40 percent of U.S. consumers are selectively or occasionally engaged in some form of energy efficient behavior or programs, and another 44 percent are always engaged in such efforts. Only 15 percent never engage at all. In addition, SECC has found that more than 60 percent of homeowners want to learn more about real-time energy usage and more than 75 percent would welcome data-driven ideas for energy and cost savings.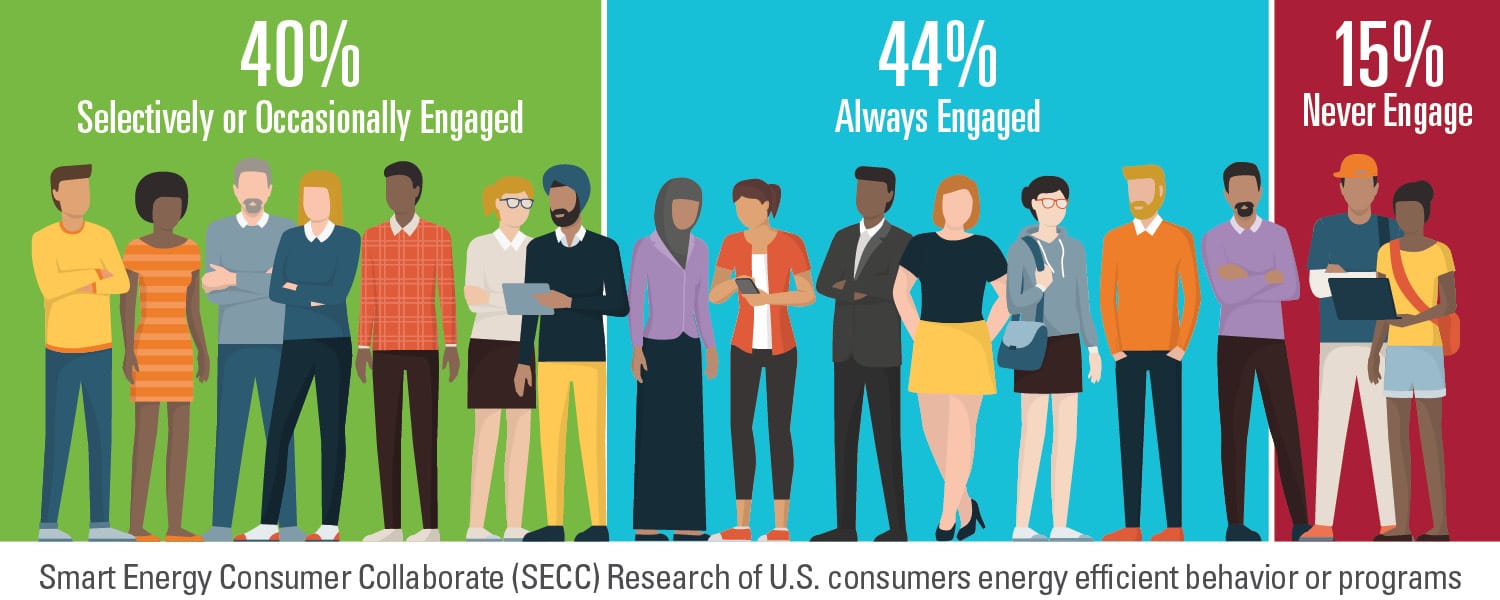 Along with consumer interest, the energy-products market is growing quickly. One analyst firm predicts that the global market for home energy management systems to rise from some $1.3 billion in 2017 to $3.7 billion annually during the next five years. Among the solutions consumers are seeking, you'll find intelligent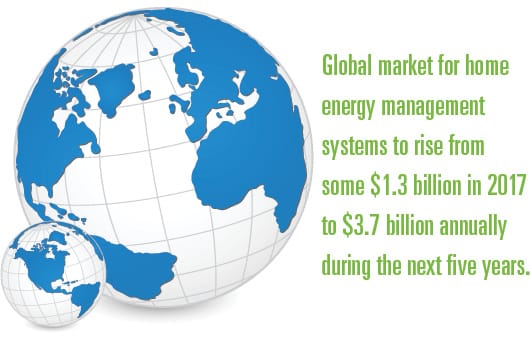 lighting controls, connected and communicating thermostats, as well as monitoring devices. The interest in these technologies is sustained because the technology provides daily interaction and benefits.
Many of these technologies are controlled via smartphone apps and also link into voice-controllers like Amazon Alexa and Google Assistant. In fact, analysts at Market Research Future expect the voice assistant industry to generate $7.8 billion in revenues by 2023. What's more, three-quarters of consumers interested in buying smart home devices value interoperability with other devices, according to Parks Associates.
Consumers aren't the only ones showing more interest in understanding how they can take more control of their energy bill. So are regulators, says Radgowski. He points to recent regulator rejection of AMI businesses cases. "What we're seeing in the market are utility commissions demanding that there is more of a direct, day-to-day customer benefit from deploying AMI networks," he says. Meter-based apps that give consumers insight and control based on meter data and utility rate signals would deliver that sought-after value.
Apps give insight and control to utilities, too. "One west-coast utility has written more than 100 little applications for their system," Radgowski says.
What kind of apps get written for meters and grid devices? All kinds. Some apps turn meters into grid sensors. Other apps are written to add intelligence on top of legacy grid devices. On the consumer side, an app might disaggregate consumption data so that consumers can have a better idea of what's contributing to their electric bills. That's one feature of the Sense technology, which will be offered as a meter app, eliminating the need for a separate measurement device in the household.
Among apps for utilities, you'll find potential exists to address a wide set of challenges, such as an app that communicates among meters underneath a common transformer so that utility personnel can manage loading and performance of that transformer more effectively. Others may focus on smart switching to minimize the number of people left out of service when faults occur.
Communications is big, too. For instance, Arizona Public Service used an apps-based approach to translate commands between the utility SCADA system, which speaks Distributed Network Protocol, or DNP3, and smart inverters on customer rooftops but under utility control. They communicate via the Modbus protocol.
If you build it, they will come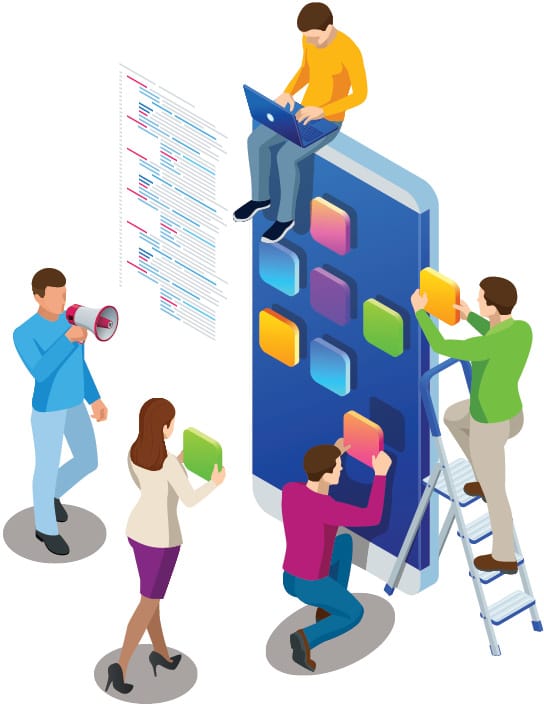 Utilities have been building proprietary, in-house apps for meters and other devices for years. They've tapped vendors to do same. But real app development flourishes when everyone can get their hands on the same standard development platforms and start playing around.
This is what's happening now that MicroEJ, a company that enables smart things — wearables, appliances, home automation, meters and more – to join the internet of things via a cost-effective, secure app platform designed to use smaller chipsets and microprocessors than you'll find in a smartphone.
"You can't put an iPhone into your washing machine," says Fred Rivard, CEO of MicroEJ. "Maybe you would like to, but the price of the iPhone could be more than the price of your washer. What MicroEJ has been able to do is create a sibling of Android that's much, much smaller." In other words, the MicroEJ technology enables the same kind of powerful computing you'd find in an Android device but using a much smaller, chunk of silicon that reduces the cost of the app-enablement.
Like Android's, MicroEJ provides a standardized set of tools for developers. "Someone can download a virtual device of a real device onto a PC and develop an app. With the MicroEJ Virtual Execution Environment (VEE), this app can be dropped into some kind of ecosystem so that any device that has the tiny VEE on board – whatever the hardware – can run it," Rivard explains.
"That's the revolution started by Android virtualization for smart phones: Design an app once and run it on any heterogenous fleet of devices."
He points out that given the vast number of electronic devices, there are countless combinations of hardware, processors, memories, communications and batteries, but they can all run the same sequence of zeros and ones once the VEE is loaded onto them. "That's the revolution started by Android virtualization for smart phones: Design an app once and run it on any heterogenous fleet of devices." MicroEJ VEE expands what made Android successful to any digital market by enabling even a processor costing less than a dollar to benefit from secure app design. Electronics become economically smart because now creating an app is very cheap thanks to usage of high-level languages and millions of well-trained engineers.
Part of the cost savings comes from decoupling hardware innovations and app innovations. VEE creates safe harbors for apps by protecting the various components of a device. "You can write an app and then deploy it without putting the other parts of your system in danger," Rivard says.
Plus, connectivity makes it easy to roll out an app – or share it, as well. Landis+Gyr is one of many companies partnered with MicroEJ to promote and support the creation of new energy management apps for both utilities and consumers. MicroEJ functionality is built into the Gridstream Connect App Studio and Gridstream Connect App Marketplace.
Ahead, Radgowski sees a day when utility engineers can download apps that power grid-edge devices as easily as kids download Candy Crush. Likewise, utility marketers will have several app options to offer consumers.
"Over time, utilities will be able to access and share apps through the App Marketplace to take advantage of new ways to best utilize technology for energy management," Radgowski says. "Many of our customers have first-hand experience with the value these apps bring to their existing technology deployments. Our goal is to make it easier for developers and utilities to create, upload and run apps on their devices."