Volume Correctors EK280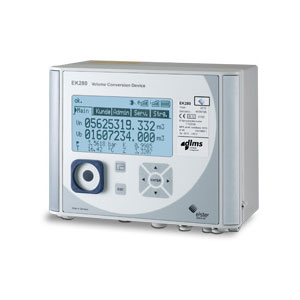 Electronic volume conversion device with optional integrated GSM/GPRS modem and configurable data interface
Applications
Volume conversion for billing purposes
Data recording for various applications
Station monitoring
Brief Information
The EK280 is a compact, battery-powered volume conversion device, which can be connected to diaphragm, turbine or rotary gas meters. As an alternative to recording the flow-proportional pulses for the operating volume (LF or HF), the EK280 can also read the original meter readings from the Absolute ENCODER index of a gas meter. The volume conversion device calculates the conversion factor C and the compressibility K on the basis of the consumption data and the analogue measurements of gas temperature and pressure. The volumes and fl ow rates at base conditions and fl ow rates at measurement conditions will be calculated using this initial data.
The EK280 consists of a central unit with either an integrated or external pressure sensor and a temperature sensor which is permanently connected to the unit. The compressibility K can be programmed as a constant for all gases or calculated according to various methods of calculation.
Optionally, a GSM/GPRS modem can be directly integrated into the volume conversion device for data communication. In Zone 1 potentially explosive atmospheres, the modem is powered by a special lithium battery module. If the device is used in Zone 2 potentially explosive atmospheres or in safe areas, a broad-range power supply unit is available to supply the modem and the volume conversion device with energy.
In addition, the EK280 has a flexible, configurable serial interface and four adjustable digital outputs. This allows the volume conversion device to be used in many different applications in the field of natural gas measurement and in industry.
Additional inputs for sensors and status signals also make it possible to use the volume conversion device for station monitoring. The data transfer to a remote control or SCADA system for this application can be made independently of the data transfer to a billing system. For this purpose, the interfaces of the volume conversion device function independently of each other while using different data protocols.
Options
Integrated modem (Zone 1 potentially explosive atmospheres)
Integrated power supply unit (Zone 2 potentially explosive atmospheres)
Second pressure and temperature sensor
Features
MID approval
Compressibility calculated by various methods
Integrated data logging function
Certifi cation data logbook (PTB-A 50.7)
Archives with flexible configuration
Suitable for use in Zone 1 potentially explosive atmospheres
6 digital inputs (LF, HF, encoder)
4 freely programmable, sealable digital outputs
Various communications protocols
Optical interface for parameterization and readout
Configurable serial interface RS232/RS422/RS485
Software update based on Welmec 7.2
Downloads