SM-RI-X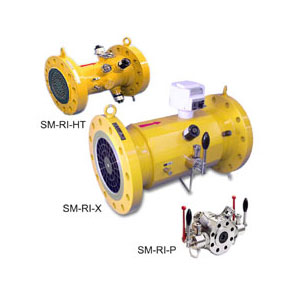 Applications
Gas measurement at low and high operating pressures
Brief information
Elster Instromet SM-RI-X turbine gas meters are robust meters for use under demanding conditions. Over decades they have proved themselves to be highly accurate and reliable devices for measuring the flow of many of gases.
The Elster Instromet SM-RI-X is unique, because of its good metrological performance and long-term stability. SM-RI-X is widely used for custody transfer of natural gas in transmission stations, distribution stations and as master reference meters.
Principle
The gas flow through the meter sets a turbine wheel in motion and the number of revolutions of the wheel is proportional to the passed volume.
The flow passes the patented X4X fl ow conditioner taking away any potential fl ow disturbances such as swirl or asymmetric flow.
When the gas passes through the fl ow conditioner, the fl ow velocity is increased and, consequently, the driving impulse on the turbine wheel is also increased. This results in a highly accurate measurement within the permissible error limits, even with low flow rates.The shaft of the wheel is mounted on robust ball bearings.
A gear reduces the revolutions of the turbine wheel. Via a magnetic coupling, a transmission shaft drives the 8-digit mechanical roller counter located in the index head. After the gas has passed the turbine wheel, it flows through a specific outlet channel, designed for optimum pressure recovery.
Conformity
Elster-Instromet SM-RI-X meters are manufactured in accordance with DIN EN ISO 9001:2000 (DIN EN ISO 14001). They are designed, produced and tested in accordance with the following guidelines, standards and references:
PED 97/23/EC, strength calculation according to ASME B31.8, class 2
ATEX directive 94/9/EC, type approval Ex II 2 G c IIC T6
Applied German and European standards (et al. EN 12261)
OIML provision R 137-1
ISO 9951
All manufactured meters are tested on offi cial, PTB and NMi approved test facilities. Test certificates in accordance with PED requirements are available for pressure tests and strength tests.
Material
The housings are made of GGG-40 (ductile iron) or steel. The meters meet the highest safety standards.
Features
• Meter types G 40 – 16000
Flow range 10 – 25000 m³/h
Diameters DN 50 – 600 (2" – 24")
Pressure rates PN 10 – 100 and ANSI 150 – 600
MID temperature range -25 °C to +70 °C
Compact installation, inlet pipe length L ≥ 2 DN
Length 3 DN
Thermowell built into meter housing (optional)
Integrated HF-pulser (optional)
Absolute-ENCODER S1 (optional)
Automatic lubrication system (optional)
MID approval
Media: natural gas, petroleum gas, town gas, butane, air, nitrogen, further gases on request
Downloads

Sales+Brochure+SMRI-X