RABO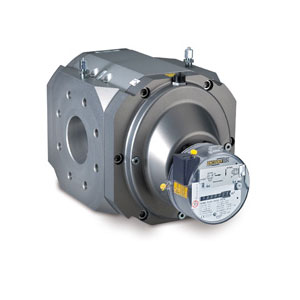 Applications
RABO is suitable for measuring gases of the fi rst, second and third families pursuant to EN 437:2009 and for measuring a range of technical gases.
Brief information
General
Rotary gas meters are characterized by high measuring ranges and compact dimensions. They ensure high accuracy, even if the gas flow is low or irregular. RABO combines tried-and-tested product features of previous rotary gas meters from Elster-Instromet and is a convincing product because it offers a large range of future oriented features.
Operating principle
Rotary gas meters are volume-measuring devices for gaseous media which operate according to the positive displacement principle. Due to their volumetric measuring principle, their functioning is not influenced by the installation and they are therefore ideal for compact measuring systems without an inlet section. They record the gas volume under operating conditions and are approved for custody transfer applications. Electronic volume conversion devices can be used in order to convert the volume.
Measurement procedure
Two rotating impellers which look like a figure of eight (8) when viewed in cross-section are mounted in a single housing with one inlet and one outlet. The two impellers are coupled together using synchronizing gears. When gas flows, the impellers rotate without touching one another and propel a gas volume to the outlet which is defined by the cyclic volume. One rotation of the system thus corresponds to a defined gas volume. The revolutions of the impellers are transferred to the mechanical index via a reducing gear and a magnetic coupler. The rotary gas meter is adjusted using a pair of gears in the index.
Features
Meter sizes G16 to G250
Flow rates from 0.6 to 400 m3/h
Nominal sizes DN 32 to DN 100
Pressure ratings PN 10/16 and Class 150 in accordance with ASME B 16.5
Temperature range -25 °C to +70 °C
Measuring ranges up to 1:160
Aluminium or spheroidal cast iron housing
Compact dimensions
5-year maintenance interval
Index can be rotated for horizontal and vertical installation
Optional index solutions (e.g. Absolute ENCODER S1D)
Approvals pursuant to MID/PED/ATEX Directives
Downloads

RABO+Brochure