Q/Q75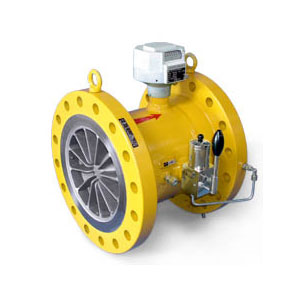 Applications
Media: Natural gas, methane, city gas, oxygen (up to 10 bar*) **
Branches: Gas industry, chemicals, food-stuffs, industry, ***
Functions: Controlling, regulation, registration, analysis, ****
Brief information
The Q/Q75 series of quantometers are well known in the fi eld of industry and commerce as robust and accurate turbine meters. They have a low price and are particularly suitable for highly-accurate and reliable metering, also in higher fl ow and pressure ranges. The Q/Q75 quantometers meet the highest industrial standards in terms of quality. Depending on the size of the meter and the conditions of application, the quantometer has self lubricating, maintenance-free bearings or is lubricated by pressure oil (oil pump). It is possible to equip the quantometer with additional devices such as volume correctors or external pulsers. The Q/Q75 quantometers can be used in hazardous areas up to zone 1. They are easy to install in a pipeline and are capableof registering, monitoring and transferring measurement data. With a Q/Q75 quantometer, volume (m³) in production processes can be measured exactly. By constantly controlling and monitoring the gas flow, the use of energy in a production process, for example, can be optimized. The fl ow meters can be combined with an Elster DS-/DLdata storage device or EK series volume correctors if required.
Operation
Elster-Instromet Q/Q75 quantometers are fl ow meters for gaseous media which display actual volume. The measurement is made with the help of a turbine wheel, whose revolutions are proportional to the actual volume fl owing through the meter (or the volume at actual operating conditions). The revolutions of the turbine wheel are reduced by a gear. The volume is then displayed on an 8-digit mechanical roller counter.
Installation tips
Up to a diameter of DN 150, the quantometer can be installed in any position. From a diameter of DN 200 upwards we recommend a horizontal installation. The flow direction in the quantometer is marked by an arrow on the housing.
Features
Economic gas fl ow meter
Meter Q/Q75, sizes 65 to 16 000
Flow ranges 6 – 25000 m3/h
Rangeability up to 1:20
Nominal width DN 50 – DN 600
Pressure rates up to 100 bar
Temperature range -10 °C to +60 °C (further temperatures on request)
Flange connections according to EN or ASME
Short pattern design
Housing made of spheroidal graphite cast iron, steel or welded steel
Suitable for outdoor installation (IP67)
Two low frequency pulsers standard
Downloads

Sales+Brochure+Q Q75