MR HP20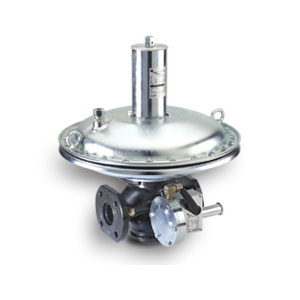 Applications
Pressure reduction for:
District distribution
Industrial uses
Brief information
The gas pressure regulator MR HP20 is spring loaded and fully inlet pressure balanced.
The device has a standard integrated safety shut-off valve (SSV). It is a member of the MR
regulator family, which is known for excellent regulation and lock-up behaviour and easy
maintenance.
The MR HP20 has been designed on a modular basis which allows the regulator mechanism
to be removed without disturbing the pipework. By removing only four screws, the
MR HP20 module can be removed from the body. This allows routine servicing and maintenance
to be undertaken under workshop conditions.
The MR HP20 can be used in industrial or commercial applications.
The unit is approved by DVGW according to the Pressure Equipment Directive
97/23/EC (PED) in conjunction with EN 334 / EN 14382.
Registration number: CE-0085CL0053.
Technical data
Inlet pressure range pu: 200 mbar respectively pds + 100 mbar to 20 bar
Outlet pressure range pds: 20 to 2000 mbar
Ordering example:
Gas pressure regulator MR HP20 with over and under pressure shut-off valve.
Nominal diameter DN …
Flange connection PN or ANSI
Inlet pressure … to … bar
Regulator set range (Diaphragm size MW)
Outlet pressure set range (optional: set point)
Over pressure shut-off spring range (optional: set point)
Under pressure shut-off spring range (optional: set point)
Features
Spring loaded
Fully inlet pressure balanced
Modular design
User-friendly spring adjustment
High fl ow rate
Integral strength according to EN 334
Integrated safety shut-off valve for over and under pressure
SSV functional class A according to EN 14382
Minimum differential pressure 100 mbar
Easy maintenance through
– exchangeable regulator head
– easy SSV diaphragm maintenance
Sizes DN 25, 50, DN 80, DN 100
Flanged connections to EN 1092-2, PN16/PN20 or ANSI 150
Operating temperature -20 °C to +60 °C
Downloads

Sales+Brochure+MR+HP20