Landis+Gyr S760 Smart Grid Device Integrator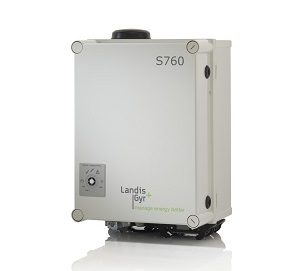 Building a fully controllable and flexible cross-functional smart grid platform
Faced with the increased volatility in energy supply caused by ageing network assets and renewable integration, distribution network operators are looking to improve power reliability and enhance their grid infrastructure with future-roof technology that can be easily upgraded for growing smart grid demands.
The Landis+Gyr S760 Smart Grid Device Integrator is a MV/LV monitoring and control solution that creates a cross-functional smart grid platform through seamless integration of all substations devices independent of their functionality into the existing SCADA and new IT systems of the network operating company.
The S760 Smart Grid Device Integrator supports standardized SCADA protocols, third party protocols and configurations, as well as a CAN protocol for additional modules. The flexible solution can be adapted to any substation environment and it features optional analog inputs for multiple configurations. The S760 modular concept allows easy extension and upgrade for future smart grid demands.
Total substation supervision for improved asset management
The S760 solution monitors power quality at strategic points of the network and instantly identifies problems causing electricity limit violations and outages. Customer outage time is reduced through fast fault location, isolation and service restoration. Asset status insights can be significantly improved through effective measurement and analytics of electric and secondary condition parameters of the grid, attached generation and load. In combination with economic modeling, this leads to better grid investment decisions for network expansion or retrofit and connection management.
Enhanced network reliability
Utilities are able to reduce operational costs and improve system reliability with control and automation through real-time data acquisition and multi-communication capabilities of the S760 Smart Grid Device Integrator. The features include remote control of switches and automatic voltage regulation which help network operators build a fully controllable and flexible grid infrastructure.

Features
Transformer and feeder monitoring
Integration of electricity meters
Integration of digital fault indicators
Automation and control of strategic breakers and switches
Multi-communication functionality (DMP3, 60870, 61850)
Data management (30+ days' storage)
Remote configuration and firmware upgrade
Easy to integrate and install
Clearly defined upgrade path
Variations
Flexible configuration according to requirements