Landis+Gyr S650 SCADA Smart Grid Terminal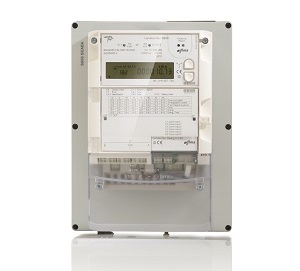 Easy integration of advanced billing capabilities with intelligent communication interface into a DMS/SCADA system – in one device
Driven by continuous growth of loads, distributed generation and ageing grid infrastructure, utilities are finding it important to enhance network visibility and power quality in order to maximize efficiency of their energy distribution assets and protect their revenues.
The Landis+Gyr S650 SCADA is a medium- and low voltage (MV/LV) monitoring and control solution integrating state-of-the-art functionalities of the S650 Smart Grid Terminal (link to page) with the advanced communication capabilities of the multi-protocol Smart Com Remote Terminal Unit (RTU). S650 SCADA aggregates and transmits real-time data to the utility AMI/AMR, DMS/SCADA or any other grid management system.
With the help of the comprehensive measurement and logging functions of the solution, energy companies are able to monitor transformer loads and power quality of the energy flow to instantaneously locate faults in the network.
Furthermore, energy balancing capabilities of the S650 SCADA deliver accurate measurements of electricity supplied and consumed and allow for easy tracking of non-technical losses. Overall, the level of distribution intelligence delivered by Landis+Gyr's monitoring & control solution enables utilities to improve their asset management and plan for future expansion.
Integration and control of renewables and micro-generation
With the S650 SCADA solution, energy companies can build a flexible cross-functional smart grid infrastructure that can be easily extended and upgraded for future demands such as renewable integration. S650 SCADA meets the requirements with regard to immunity of high frequency, generated from renewable inverts and EV charging equipment and combined with the Smart Com RTU, it intelligently delivers real time data to the utility DMS/SCADA system.
Monitoring and control of secondary MV/LV transformer stations
S650 SCADA cost-effectively satisfies DNO's smart grid requirements for MV/LV secondary transformers. The equipment is easily merged with the existing and new power infrastructure in the utility existing SCADA and / or new IT systems. The integration of the upgraded power infrastructure and IT systems instantly improves outage and fault management, resulting in major cost savings.
With 650 SCADA, remote monitoring and multiple data analysis from initially non-integrated transformer stations can be easily implemented, supporting network operators in their efforts in building a sustainable smart grid.

Functions
Supervision of single MV feeder or single LV feeder/transformer
Network measurements (3xI; 3xV; f; ±3xP; ±3xQ; cos phi; 10min average)
MID-certified billing measurements
Energy balancing with smart meters
LV earth fault detection
Street light control via astronomical clock
Single channel communication with AMI/AMR or with DMS/SCADA systems
Multi-channel communication with single modem (parallel communication with AMI/AMR and/or DMS/SCADA and/or power quality system)
Remote RTU software configuration and upgrade
Energy reserve via built-in power supply unit
External Ethernet plug and antenna connector
Overload detection and alarm (transformer, cables) (optional)
Switchgear and door status (optional)
Transformer tap changers control for renewable integration (optional)
Variations
Flexible configuration with all types of S650 Smart Grid Terminals (SMA and SFA)
Smart Com RTU as a single device equipped with human machine interface (HMI) and additional external RS485 plug to connect installed E650/E850 electricity meters or Modbus equipment.