Landis+Gyr Pipe couplings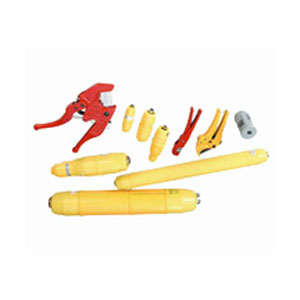 Perfection Corporation, established in 1944, operates plants in Madison, Geneva, and Harpersfield, Ohio and is part of the ELSTER-AMCO worldwide group of companies. Perfection Corporation is the world's leading manufacturer of mechanical joining products for natural gas and propane gas distribution systems. Perfection offers a complete line of gas distribution products that allow installers to make fast, easy and safe connections from "main to meter" and from "tank to house".
The Permasert system of polyethylene piping products includes non-corrosive mechanical couplings, anodeless risers, transitions, valves, tapping tees, repair couplings and excess flow valves. The Permasert system is a cost effective solution as a result of labour cost reductions of 75%, all-weather installations, reduced excavation works, reduced training investment, long term system reliability, no special tools or other costly equipment to purchase and maintain.
The Perfection PermaLock mechanical tapping tee offers gas line installers a unique combination of speed, economy and security when connecting a service line to a gas main. PermaLock low profile tapping tees can be installed in as little as five minutes. The simplicity of its installation procedure eliminates the need for extensive training and multi-person crews.
The safe delivery of gas remains a primary mission of the worldwide natural gas industry. To help accomplish this fundamental task, more and more utilities are taking safeguards to minimise occurrences of gasescapes due to pipeline breaks caused by third party damage, bush fires and other natural disasters. The easiest, most dependable, and economical way is with an EFV excess flow valve from Perfection.
Perfection system products are suitable for PE80 and PE100 with a wide variety of Metric and Imperial sizes.