Landis+Gyr EM1000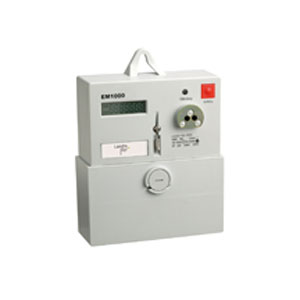 Advanced metering design
Continual development by Landis+Gyr's Australian engineering team allows the EM1000 to deliver enhanced single phase interval meter performance & functionality to Australian customers. Expanded interval data capacity, reduced communication times, ease of programming and installation make the EM1000 an advanced metering asset that can deliver substantial returns for Meter Asset Managers.
Interval data recording
The EM1000 stores 282 days of 30 minute interval data in load profile to measure residential energy consumption.
Cost-effective communications
The EM1000 utilizes advanced data compression protocols & fast 38k4 baud rates to deliver ANSI optical port download speeds of less than 5 seconds for 90 days interval data. An RJ45 RS232 port enables easy remote communications.
Easy to use
Compatible with the popular EMProHHU & EMPWin, the EM1000 provides metering technicians a swift learning curve on its features, functions & applications. As the EM1000 is TIM file compatible, its inclusion in common meter reading systems is simple and convenient. A compact design and M series bottom mounting holes make the EM1000 easy to install on Australian meter boards.
Quality manufacturing and delivery excellence
Built-in quality & reliability of supply are paramount to Landis+Gyr. Our ISO9001 and ISO17025 certified assembly & testing facilities are part of the world's largest metering group and our operations are supported by the World's best component suppliers.
Features
Import & Export kWh, instantaneous QOS, 4 TOU Rates, 2 pulse outputs
282 days data storage at 30 minute intervals
High-speed 38k4 baud ANSI optical port delivers 90 days data in < 5 sec
RS232 via handy RJ45 port
EMProHHU & EMPWin compatibility
Australian Standard terminal layout and conventional footprint for easy installation
Downloads

LG APAC EM1000