Landis+Gyr E55C Modems and Gateways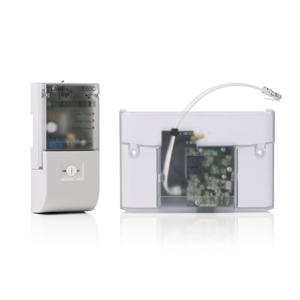 Modems and Gateways for ICG Meters
The E55C products are modems and gateways designed to work with E550 meters. In this product family, there GSM/GPRS modem (2G and 3G) as well as PLAN Plus Modems (PLC). These modems offer an attractive alternative for E65C modules where the customers are more cost conscious.
The E55C Multi-Source Modem (MSM) offers under the terminal cover GSM modems. The modem draw the power directly from E550 meters equipped with powered RS232 interface. The modem is much more than an afterthought. The modems allow the meter to control the mode of operation depending on the time of day. This allows network operators to rest easy and not have to worry about the network being swamped by meters even when they are not transferring data. In addition, the user can read the signal strength of the modem directly from the meter display. Finally, the modem's functionality and electrical compatibility is thoroughly tested by Landis+Gyr.  Best in class supplier work with Landis+Gyr to provide optimized performance. Our MSM modem partner is ETM Matteknik AB based in Sweden.
The E55C PLAN PLUS Modem is a PLC gateway. The device can be used to share the investment in residential PLC communication networks installed during AMR projects. The standalone gateway performs all the protocol conversions needed to be compatible with DC450 data concentrators. This device can be used with E650 and E550 meters to lower the operational costs of reading commercial meters.
Features
Variety of communications technologies supported
Robust power supply design for the industrial environments
Full EMC compatibility testing done with meter and modem together
Downloads

Landis+Gyr E55C Modems and Gateways Brochure