Landis+Gyr 3000 Series regulator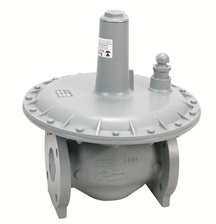 The American Meter 1800 PFM (Precise fixed Factor Measurement) Series industrial regulator is designed for applications requiring medium-to-high capacity, precise outlet pressure control and fast response to changing loads. Pilot loading and pressure balancing across the large main diaphragm eliminates the droop of the spring loaded regulators for stable, non-pulsating control over a wide range of flows.
Available in 1-1/2" and 2" screwed or flanged connections, outlet pressures range from 3.5 to 205 kPa, inlet pressure range up to 1050 kPa. It is suited for capacities up to 60,000 Sft³/h (1700 Sm³/h). Available with overpressure shut-off and monitor capabilities.
Selection Program
The Landis+Gyr Gas Product Selection Program is a multi-faceted program that is designed to assist in the selection and sizing of the gas products sold by Landis+Gyr and includes all Product Brochures, Instructional Manuals and Parts Lists.