Landis+Gyr 1800/2000 Industrial Series regulator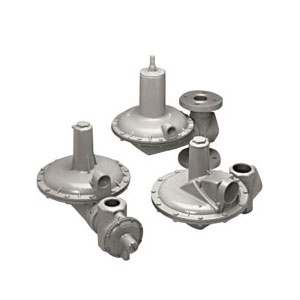 The 1800 Series regulators offer outlet pressures ranging from 3.5″ wc to 5 psig (0.85 to 35 kPa) and capacity up to 25,900 Sft³/h (733.4 Sm³/h). 2000 Series models have outlet pressures ranging from 0.5 to 15 psig (3.5 to 103 kPa) and flow rates up to 20,000 Sft³/h (566.3 Sm³/h). The 1800 Series can be ordered as Full Relief, Partial Relief or No Relief.
The 2000 Series regulators are non-relieving. Both models are available with overpressure shut-off, underpressure shut-off and monitor capabilities. Connection sizes ½" and 2″ screwed (BSP) or inch flanged ANSI 125.
Selection Program
The Landis+Gyr Gas Product Selection Program is a multi-faceted program that is designed to assist in the selection and sizing of the gas products sold by Landis+Gyr and includes all Product Brochures, Instructional Manuals and Parts Lists.
Click here for more information.