GasLab Q1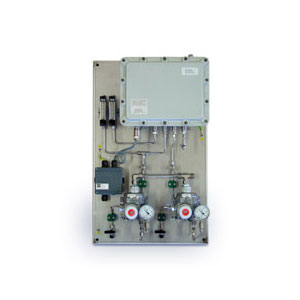 Applications
Gas quality measurement for generic natural gases
Measurement for control and regulation
Brief information
The gas-lab Q1 is a gas quality analyser for natural gases. The device works quickly, continuously and without flame. It provides online metering of the values calorific value, standard density, CO2 concentration and other characteristic gas parameters necessary for billing and control purposes. The device carries out a fully automatic calibration using methane gas, other utilities such as carrier gas or complex calibration gas mixtures are not necessary for operation.
The correlative metering procedure of the gas-lab Q1 is based on the determination of the infrared absorption and thermal conductivity of the gas being analysed. The field of application covers the entire range of natural gases with a single calibration. Besides calorific value, standard density and CO2 concentration, other gas parameters such as the Wobbe index, net calorific value and methane number are also determined. In addition, a model analysis for natural gases including the components CH4…C8H18, CO2 and N2 is also drawn up.
The metering system consists of two components, an EX-proofed metering unit and a control unit. The metering unit can be installed within a hazardous area near the pipeline and makes it possible to take samples very quickly without the need for a time consuming and costly installation. The control unit can be installed up to 1000 m away from the metering unit and is used for control, evaluation and display purposes as well as for registration and communication. As with all of the devices in the gas-net series, the Q1 can be operated and the archive read out via remote control. The control unit is equipped with ports for input and output cards with analogue and digital interfaces for monitoring and controlling the peripheral equipment of the device as well as communicating via MODBUS.
Due to the fact that the metering is quick and continuous, the gas-lab Q1 is suitable for metering, control and regulation purposes; practical examples of applications include the control of gas mixing plants and gas turbines. Approved by the German institute of metrology (PTB), the gas-lab Q1 is also used for fiscal metering in small stations. The gas-lab Q1 stands out on account of the low capital investment and maintenance costs and its user-friendly operation.
Features
Fast, continuous measurement
Approved by German PTB
Simple operation
Small investment and maintenance costs
Downloads

Sales+Brochure+GasLab+Q1