Flow Computers FC1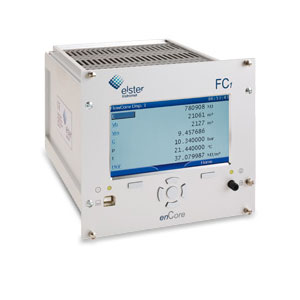 Brief information
The Elster FC1 flow computer is designed for gas measurement applications and the corresponding calculation algorithms. A multi-stream functionality and advanced logging features with a wide range of security and communication features are available. enCore, which means Elster new Core, is the 'base plate' of the FC1. This backbone of the new flow computer contains the basic functionalities. A modular software system consisting of independent application function blocks (AFBs) turns the FC1 into a reliable, secure and high performance flow computer. By using cryptographic mechanisms, it can
be securely updated and upgraded even in a fiscal way. Since this scalable software system is also modular in terms of hardware, the widest range of applications is possible. Two different housing sizes can effectively accommodate the required number of I/O boards, so no space is wasted. In combination with input boards with integrated EX barriers, small stations will
also be able to be equipped with a high-end flow computer.
The widest range of calculation algorithms pursuant to AGA, ISO and API are implemented to fulfill all requested flow conversion requirements. The user definable logging feature can use any desired amount of flash memory, thus causing no more restrictions in logging depth. A multiple user functionality and complex audit trails simplify the security management and enable the service staff to retrieve the history of the unit whenever it is required.
The user-friendly and operating system-independent configuration software enSuite simplifies the parameterization and configuration process as much as possible.
Applications
The Elster FC1 is a new modular flow computer approach based on future-proof hardware and software concepts.
Features
Modular hardware architecture (one interface board for one stream)
Partial software upgrade/update
Enhanced data logging functionality
Calculations according to AGA/ISO/API
Ethernet: HTTP/FTP/MMS/Modbus protocols
USB front panel interface
EnSuite configuration software
Full graphic display, touch screen
Configurable layout of user defined displays
Multiple language system (selectable online)
Optionally integrated EX barriers
Low power consumption
Downloads

Sales+Brochure+FC1