Encal3000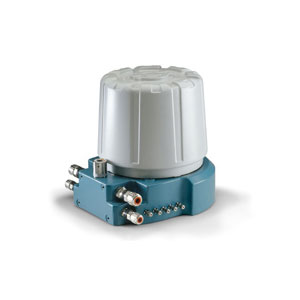 Applications
Fiscal Energy measurement
Quantitative measurement of natural gas components
Gas quality control measurement
Brief information
The EnCal 3000 is a gas chromatograph specially designed for natural gas energy measurements. This state-of-the-art analyser uses chromatography components based on the latest micro electro-mechanical systems (MEMS) and capillary column technique. This results in highly repeatable and accurate analysis results. The compact, explosion proof design includes the analytical hardware, stream selection and all required electronics for standalone operation.
The capillary column technology used in the EnCal 3000 has a superior performance compared to the conventional used packed column technique. Optimum peak separation in combination with a very sensitive and linear TCD detector results in a system with a high accuracy over a large range of gases. Since the carrier gas pressure is electronically controlled ambient temperature changes have no infl uence on peak retention times. The design of the EnCal 3000 is such that the unit can be placed outdoors close to the sample point without the need of an expensive temperature controlled environment.
Communication with the EnCal 3000 can be established using the TCP/IP connection and two Modbus ports. The confi guration of the EnCal 3000 is carried out with the help of the software package RGC 3000. This software package can be used to configure the (freely programmable) Modbus listing, the analyser method, alarm settings, and all other available parameters in the analyser. RGC 3000 is the only user interface to the En- Cal 3000, which means a separate control unit is not required to operate the instrument or to change any configuration parameters. The TCP/IP connection offers a lot of communication possibilities, like networking capabilities. By using Modbus via TCP/IP multiple instruments such as flow computers can be connected to the EnCal 3000. Besides the RGC 3000 software package, the unit can be supplied with a powerful diagnostic software tool, which can be used to analyse the internally stored data. 35 days of data is stored in the EnCal's solid state memory in accordance with the API 21.1 standard. With the help of the "History logger" software, this data can be retrieved, presented and transferred to HTML based reports.
The modular design of the EnCal 3000 enables the servicing of the analyser by non-specialist personnel and keeps instrument down-time very short. The use of the MEMS based components results in far lower consumption of utilities like the Helium carrier gas. All of this contributes to lower operational costs compared to traditional gas chromatographs.
Features
C6+ within 3 minutes*
C9+ within 5 minutes*
Repeatability < 0.01 % Double block and bleed Stream select for 5 streams
TCP/IP communication Data storage in accordance with API 21.1 standard
IP 66 outdoor housing
Calculations in accordance with ISO 6976, GPA 2172 or GOST 22667
Downloads

Sales+Brochure+EnCal+3000