E331/351 FOCUS AXe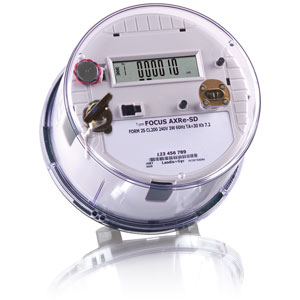 The FOCUS platform for advanced metering and smart grid applications is designed to enhance your sensor ecosystem with industry-leading reliability and innovative features. Expanding on Landis+Gyr's proven and industry leading AX solution, the FOCUS AXe-SD provides enhanced security with tamper detection features, more power and memory and reliable functionality for the utmost in performance today—and the future.
Functions
With capabilities like dual demand and reactive, the FOCUS AXe can accommodate next generation applications (pre-pay, power quality, tamper detection, etc.) to enhance the value of your meter sensor ecosystem.
The E351 FOCUS AXe-SD incorporates a 200A, motor driven, cam action disconnect/connect switch under the meter cover. This advanced, market-leading switch, coupled with the field-proven reliability of the E351 AXe-SD, delivers Landis+Gyr's third generation design answer to today's evolving utility requirements.
Features
Two, simultaneous demands kWh and kVA or kVAR
Detect meter removal/insertion from meter socket
Real time rate input (optional)
Power quality data (sag/swell)
Most advanced cam-driven switch design to withstand 10K cycles at full rated current
Switch continues operation even under low voltage conditions
Expanded non-volatile memory
Magnetic/DC presence detection (based on leading current)
Optical port lockout/open
Supports two methods of calculating kVA/kVAR covering Q1-Q4 quadrants
Enhanced power supply
Surpasses ANSI requirements for surge protection (10KV) and meter accuracy
Advanced over-the-air-flashable firmware upgrades avoids loss of billing or configuration data
Motor-cam driven service disconnect integrated into meter base
8 channels of load profile
Pre-pay ready
Downloads