AL1000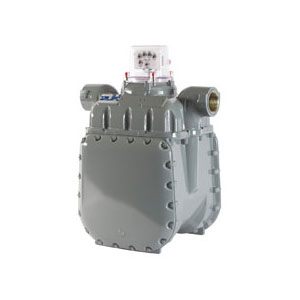 Elster American Meter's aluminumcase meters are designed to provide positive displacement accuracy for industrial or commercial loads.
Advantages
AMR/AMI Compatibility
Temperature Compensation available from -30°F to 140°F (-34°C to 60°C)
Meets ANSI B109.2 specifications
Measurement Canada accredited
1000 SCFH (28.3m3/h) (0.60 specific gravity gas) at ½-inch W.C. differential
Applications
The AL-1000 meter is ideally suited for commercial and industrial installations. It is unequaled for accuracy retention and for life cycle maintenance economies.
Options
Regular or Temperature Compensated
Pointer or odometer index
5ft3, 10ft3, or 0.1m3 drive
30LT, 45LT, 60LT, 100LT, 1-1 1/2" NPT and other connection sizes
Pressure compensating indexes
Standard or UV protected index covers
Remote volume pulsers
Connection sets
25 or 100PSIG (170 or 6895 mbar) Maximum Allowable Operating Pressure (MAOP)
Features
Die-cast aluminum case
Oil-impregnated, self-lubricating bushings
Molded, convoluted diaphragms for smooth operation and long life
Rigid, reinforced flag rods for positive alignment and sustained accuracy
Graphite-filled phenolic valves to minimize wear
Long-life, low friction, grommet seals
Single coat polyester primer with high solids polyurethane top coat
Security seals that indicate tampering
Downloads

Sales+Brochure+AL1000