1010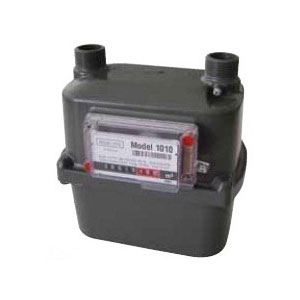 The Model 1010 gas meter is designed for large domestic or light commercial applications
Utilising the compact BK-G6 module the Model 1010 provides a designed capacity of 10 m3/h of natural gas at 125 Pa pressure drop (Natural Gas specific gravity 0.62).
The Model 1010 is designed for extreme weather conditions having a fully sealed hydrophilic coated UV stabilised index, die cast aluminium housing, which is Alodine surface pre-treated followed by baked Woodland Grey polyester powder coat.
The meters inlet / outlet bosses and external dimensions are identical to that of the Model 750. While delivering an increased flow channel performance via the BK-G6 module, the Model 1010 meter weighs just 100 grams (100g) more than the Model 750. This allows domestic gas services to be upgraded to a higher flow capacity without the need to alter the pipe-work at the meter, saving time and money.
The outstanding design features of the Model 1010 gas meter such as the tangent control, large cyclic capacity and magnetic drive index provide unparalleled accuracy. The Model 1010 has been designed for long-term
Features
Capacity 10 m3/h(Gas) at 125 Pascal Loss
Powder Coated Aluminium Case
Pulse Ready – Field Retro-fittable
Designed to EN1359 and AS4647
Magnetically Driven, All Weather, Sealed Index
Increased Flow Channel Performance
Downloads

Sales+Brochure+Model+1010+L%2bG+(1010001)